Poll results showed seven percentage points separated the sitting Democrat from the Republican nominee, but such horse-race analysis doesn't tell us much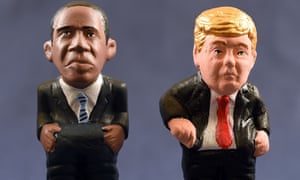 When Americans were asked who they would prefer as president, only seven percentage points separated Barack Obama and Donald Trump.
In a survey released from Public Policy Polling on Thursday morning, 51% of respondents chose Obama, 44% chose Trump and 4% said they were "not sure" who they would prefer.
If those numbers suggest Trump is doing well in the race to succeed Obama in the White House, however, the other results gathered from the 933 likely voters tell a different story.
Hillary Clinton was five percentage points ahead of Trump, with 49% of support in a question about voting intention compared to Trump's 44%. Perhaps that was because most of those surveyed felt Clinton "won the first presidential debate" – 31% said they thought Trump won and 14% said they weren't sure.
I think Trump did surprisingly well given the result from question No9. It asked: "Which candidate for president do you think would be more likely to cause a nuclear war?"
In answer, 49% replied Trump and 31% said Clinton.
But let's not forget the 20% who said they weren't sure which candidate could provoke an apocalyptic war. The truth so often forgotten in all such horse-race analysis is that neither candidate comes off well in surveys like this.
People might vote on 8 November but they will probably hold their noses while doing so: 52% of people in the Public Policy Polling survey said they had an unfavorable view of Clinton and 55% said they had an unfavorable view of Trump.